Fossil Ridge Boutique Vineyard
Nelson, New Zealand
Fossil Ridge is a family owned and managed vineyard offering affordable award winning boutique wines. We are situated in Nelson at the top of the South Island of New Zealand.
The vineyard enjoys a temperate climate, well drained clay loam soil and north facing aspect; a terroir ideally suited to our grape varieties.
With boutique wine making, our quality focus starts with fastidious attention to detail in the vineyard. Crop volumes are carefully managed to ensure optimal fruit ripening and flavours, grapes from our vineyard are all selectively hand picked.
Our wines are traditional to variety with elegant, fresh fruit driven styles showing complexity peculiar to our terrior.
You can learn more about our operation in the Fossil Ridge profile.
Café & Wine Tasting
You are most welcome to visit our Cellar Door facility.
Set in a particularly attractive landscape location and very close to town.
Café serves platters, fresh country lunches, desserts and coffee.
Click here to view our Summer Menu
Opening Hours (Summer Only).
OPEN Wednesday 21st November 2018 to 31st March 2019
from April 1st, 2019, CLOSED
Please check our answerphone for updates: phone 03 544 9463
Summer hours:
OPEN Wednesday to Sunday from 11am to 3pm
CLOSED Mondays Tuesdays and Public Holidays
Closed: 25th and 26th December
Closed: 1st and 2nd January
Closed: 6th February, Waitangi Day
Fossil Ridge Vineyard
Welcome to our special place.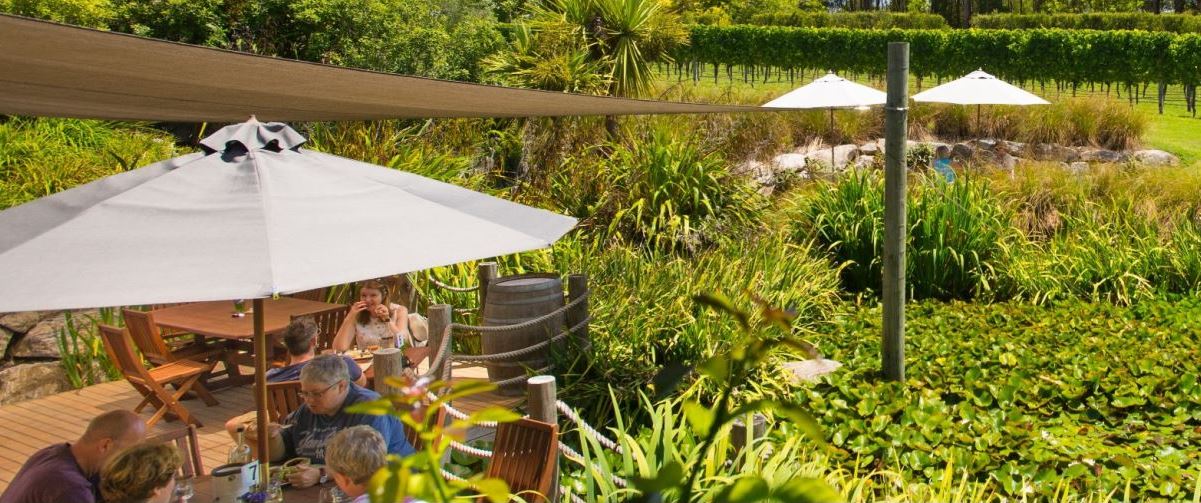 Fossil Ridge Vineyard Nelson, New Zealand
Fossil Ridge wine represents the culmination of a family project that started in 1997. The vineyard lies at the foot of the Barnicoat Range, Richmond about 15 kilometres south of Nelson. The Nelson region, well known for it's temperate climate, is ideally suited to grape production. Nelson wines are very successful in national and international wine competitions.
Boutique Wine Vineyard Nelson
The site itself provides a north facing, sloping soil profile, predominantly clay loam and has been extensively landscaped to enhance grape growing capability and appeal.
We also grow Olives and Macadamia nuts.
Unique Mollusc Fossils
The vineyard site takes its name from a feature unique to its geological development with the presence of Monotis richmondiana fossils. These molluscs existed during the late Triassic and Jurassic (dinosaur) era – some 200 million years ago – and have been found liberally throughout the vineyard site.
Fossil Ridge
Riesling
A medium dry style wine with inviting citrus and stone fruit aromas and flavours leading to a refreshing finish.
Excellent as an aperitif, also with seafood or chicken.
$20.00
Fossil Ridge
Rosé
An elegant blush Rosé, vinted from Pinot Noir grapes. Enticing classic strawberry bouquet foreshadows a refreshing palate. With creamy mouthfeel and lasting vibrant red cherry intensity. Delicious summer wine.
$22.50
Fossil Ridge
Chardonnay
A mouth filling rich wine with stone fruit flavours, toasty, buttery characters add complexity, with creamy smooth finish. Fermented in oak.
Great with seafood, cheese dishes, avocado and salmon.
$26.50
Fossil Ridge
Gewűrztraminer
A medium dry style wine with luscious flavours of tropical fruits, turkish delight and honeysuckle.
An ideal partner with seafood and spicy Thai dishes.
$22.50
Fossil Ridge
Pinot Noir
Delicious from the start, this finely scented, mouth filling pinot with generous cherry plum flavours and spicy savoury notes adding complexity.
Very good with fresh salmon, poultry or veal.
$30.00
Please Note: Bateup Road is currently one way due to maintenance.